Steve Newman was born in Bedford on July 3rd 1966 and 14 years later was to pick up his first acoustic guitar. It wasn't long before he acquired an electric guitar and formed his first band with school buddy Kim Beadle. He continued to play guitar and experiment with various studio equipment such as drum machines and keyboards. At the age of 16 he joined the college band Early Warning and played numerous gigs to enthusiastic audiences for the following 2 years. All this time Steve was writing and recording songs by very basic means, recording guitars on one tape player then playing the tape back and singing vocals while recording onto a second tape player!
In 1984 Steve was asked by John Gilmore to join the Southsea based melodic rock band Jaded Heart as lead guitarist. The five piece band began to write songs together heavily influenced by bands such as Tobruk and the very popular Portsmouth band Explorer. Unfortunately they were never to play live, although they did record a 3 track demo receiving great reviews, shortly after this the band broke up.
After a break from the scene in 1988 Steve went on to co-form the Pop Rock band Cloud 10 and his strengths as a songwriter were truly realized. At this point in time Steve's writing was heavily influenced by bands such as The Outfield, Van Stephenson and Sugarcreek. The band, consisting of members Steve on Guitar, Bill Leath(Guitars),Ginge Shurman(Bass), Andy Briar (Drums) were to later be joined by vocalist Darren Ball. The band continued to rehearse and tighten up their sound, eventually producing some recorded rehearsals which caught the attention of Queen's management company. After playing a few shows the band were to eventually split up due to.... you guessed it!... musical, and personal differences.
Steve then went back to an intensive period of songwriting after being frustrated by the confines of a band. All this time he had kept in contact with John Gilmore, and after a few lengthy phone calls they decided that the time was right to form another band. Shere Khan was born, they inlisted the help of Johns younger brother Chris Gilmore, on drums, Iain Jacobson on Bass, and the ex Wildfyre, XS singer Phil Bennett. Steve was back in the driving seat writing songs with John, this time in a more heavier direction and influenced by bands such as Bonfire and TNT. After 2 years and a name change to Cairo the band was to go from strength to strength, entering the Southsea Battle of the Bands competition and completing a string of dates including some live appearances at festivals in London. The band then became a four piece after John and Chris decided to leave, Chris was replaced by Mark Mulholland on drums and the group continued to gig regularly until it's final demise in 1993.
After a short break from music, disillusioned at the scene and lack of support for rock music in general Steve then started to write songs which would form the basis of the first Newman album. During this time he received a call from Mark Mulholland asking him if he would like to audition for a band that Mark Thompson-Smith (Idol Rich, Praying Mantis) was putting together. He agreed and was soon in rehearsal for returning to the live scene in the Mark Thompson-Smith Band. Unfortunately, due to the drummer being seriously ill the band was put on hold indefinitely. However, through this meeting both Steve and Mark TS would form a great friendship and mutual respect for one another.
Steve went back to writing more songs and asked Mark TS if he would like to sing on the album he was putting together, however, unfortunately, due to Mark's other commitments he was unable to find the time needed. Steve then set about trying searching for another vocalist but very soon realized that good ones were not easy to find. After another year and the album musically completed he decided to go into the studio and sing the songs himself. Another few weeks of frustration and hard work ensued but finally he was happy with the results. Steve submitted the recordings to Ivan Gunn, who was so impressed with what he heard he approached Point Music in Germany. It was at this time that Ivan suggested that the songs would need to be re-recorded. Lionel Hicks was approached to work on the album and although he was very keen to work on the production unfortunately his commitments with his band Balance Of Power were too great at the time. Ivan then approached Chris Jones (Freefall, Kick) to work on the album and after a couple of meetings in London Steve and Chris went about planning how the album should be recorded. Steve inlisted the help of William Marshall to play bass and Mark Mulholland to contribute drums.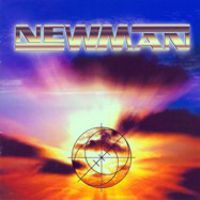 The recording of the first Newman album took place at Universal Sound in Surrey over two very intensive weeks. During this time Steve and Chris formed a great friendship and when the album was completed the funding was put in place to distribute to the UK and Europe. The album was met with rave reviews from such publications as Hard Roxx Magazine and also gained interest and airplay in the US. The album was taken on by AOR Heaven in Germany and sold reasonably well in the early months of release.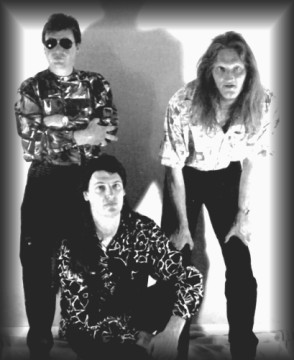 Steve was then approached by Mark Mulholland to become the singer of the duo Double Deuce. They spent the next 12 months gigging around 3 times a week and gathering a loyal following across the south coast of England and into London while Steve continued writing and recording further material when time would allow.
Eager to record a second album, Steve went about sourcing funding for the next CD however the royalties from the first album did not see the light of day. Chris stepped forward and with an agreement from the owners of Universal Sound recording began on the follow up album a few months later. Chris bowed out of production duties due to his further involvement with album cover artwork and design for Escape Music, handing this over to his brother Mickey G to oversee the engineering. As the album was nearing completion Khalil Turk from Escape Music was looking for a new studio to record his bands, he approached Chris and asked about the facilities at Universal Sound. Chris then told Khalil that he was currently recording and said that he would send up some rough mixes so that Khalil would get an idea of the quality being produced by the studio. Khalil heard the opening number and was immediately on the phone to Chris asking about this band Newman. Subsequently after a few calls Steve signed to Escape Music for the release of the second album and subsequent 3 album deal. Various musicians were used on the recording, featuring the original members Mark Mulholland and William Marshall, they were joined by Mark Thompson-Smith, and Nick Workman (Kick) to add background vocals for the remaining sessions in London. The album artwork was designed by Chris Jones.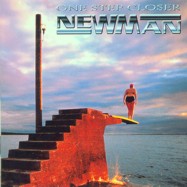 In 1998 One Step Closer was released in the UK and Japan and immediately scored high marks on various websites around the globe. The album quickly established Newman as one of the UK's premier melodic rock bands. The title track "One Step Closer" was played heavily on radio in Europe and Japan and attracted a whole new fan base for the group.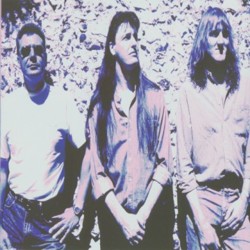 In October of 1999 Khalil was approached by Mark Ashton of Now And Then Records inviting Newman to
play the Gods Festival in Wigan. With only a few weeks to the concert Steve inlisted the help of his old buddies Iain Jacobson and Mark Mulholland to fulfill bass and drum duties respectively. Added to the line up was guitarist Paul Raby, Keyboardist Stef Collins and Steve took on Vocals and Guitar. The band rehearsed for the next few weeks and played a warm up show on the South Coast in preparation. On Saturday November 20th Newman hit the stage and was warmly received by all in attendance. There were fans from all over the UK, Europe, and even some that had traveled all the way from Japan to see some of the bands that were appearing. The band took the opportunity to play songs from the first two albums and also a new song "Remember The Night" that Steve had written only a few weeks previously. Shortly after this appearance Newman were approached to appear at various venues and festivals, however none of the organizers were prepared to pay even the bandexpenses hence the state of the scene at the time.

The impetus for playing live and touring subsided fairly quickly and Steve once again concentrated on writing songs for the next Newman album. Khalil suggested that Steve Morris and Chris Ousey of Heartland be drafted in to handle engineering and vocal production duties. Steve agreed and once the songs were written traveled up to Steve Morris's Ocean Reach Studio in Warrington. After an intensive period of 3 days they then moved across to Parr Street Studios in Liverpool to record the main vocal tracks with Dave Buchanan and Chris Ousey overseeing production. The recorded songs were then takenover to Canada to have the drums and bass re-recorded and produced by Paul"The Machine"Dean (Loverboy).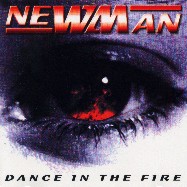 In 2000 Dance In The Fire was released and once again scored high marks with music critics and achieved great reviews on such websites as melodicrock.com. A much darker album than it's predecessor DITF was a more guitar driven release and attracted new fans while retaining the distinctive Newman sound. The album also achieved another Japanese release and went on to gain reasonable sales in Europe.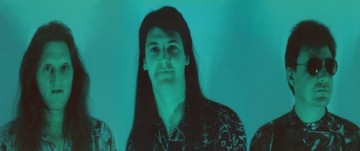 After the recordings of DITF Steve decided to spend more time building his own studio and then in 2002 got together with Kevin James (Bass) and Rob McEwen (Drums) to begin writing songs for the next album. It was very quickly realized that these songs would be a very big departure from the previous Newman albums. Once 4 songs were completed they were presented to Escape Music, however both Steve and Khalil were unsure about releasing the material under the Newman name. Steve decided to use the nucleus of these musicians to form Butterfly Tattoo and continued writing songs for a full album. As yet unreleased these songs may very well see the light of day in the not too distant future.
Steve then took some time out to relocate again to a different part of the South Coast and build a new state of the art studio. The Blue Room was completed in 2002 and Steve started once again to write songs for a follow up to DITF. After 6 months the guitars, keyboards, and vocals were complete and the masters were taken up to Mastertone Studios in Runcorn where Pete Jupp (FM) and Mike Brooks added Drums and Bass respectively overseen by Pete Coleman at the engineering helm. Chris Jones was once again drafted in to produce the artwork and design.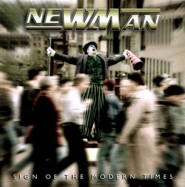 In 2003 after 3 years absence Sign Of The Modern Times was released and revealed a more cohesive
recording. The album achieved a 92% mark in melodicrock.com and was followed by similar reviews on rockreport.be and lionspridemusic.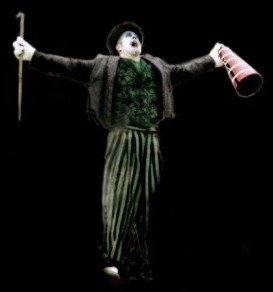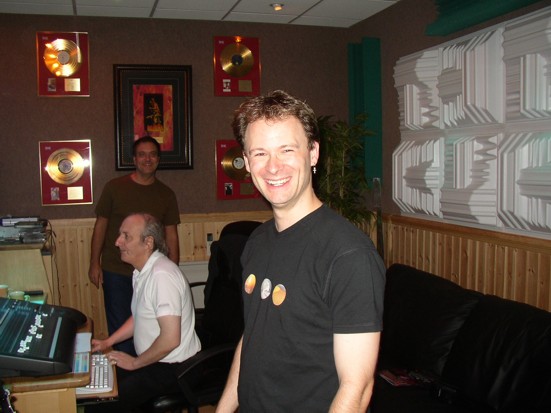 Steve has since traveled out to Sweden to work with one of the songwriters he had admired for quite some time. The collaboration with Anders Rydholm of Grand Illusion produced some great melodic rock tunes which are still yet to be released. A great friendship was formed and when Anders began work on the new Grand Illusion album he drafted in Steve to write the lyrics to "When You Were Mine" and "Pull You Down". The GI album "Ordinary Just Won't Do" was released later that year and was a fantastic mix of power and melody featuring the extraordinary guitar talents of Ola Af Trampe, fantastic songwriting of Anders, and the incredible vocal talents of Peter Sundell.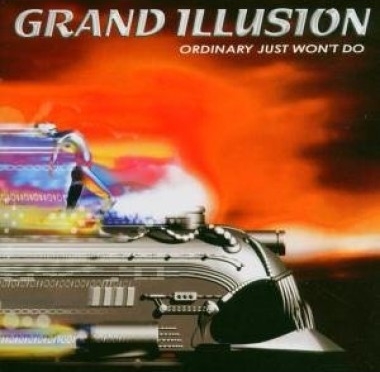 After an absence of a another year and yet another relocation for the "Blue Room" studio to it's now current place Steve began to write again. These songs were to make up the backbone of the next Newman album.
In May of 2006 "Heaven Knows" was released featuring songs such as "Aint Gonna Cry Forever" and a song which was initially written as part of the sessions with Anders "Sport Of Kings". In fact, Anders featured playing bass on this song. The album received much critical acclaim for it's highly charged lyrics and "in your face" sound not only due to Steve's production but also the addition of the talented Rob McEwen on drums. Newman were asked to perform at the prestigious "Firefest III" festival in October of that year and headlined the pre-show party. The band was much the same as the Gods 1999 lineup with the exception of Mark Mulholland who moved from Drums to keys replacing Stef Collins, and Chris Gilmour taking up the drum duties.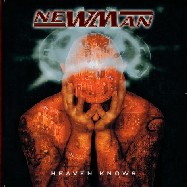 2007 saw the parting of ways with Escape Music, after 7 years and 4 albums Steve felt the time was right to move away and take more creative control although the friendship with Kahlil Turk and Barrie Kirtley remains in place until this day. After some considerable upgrades on the studio set up at the "Blue Room", and formation of the independant label Chrome Dome, Steve started to write and demo songs for the next studio album. He was also approached by Kurt Vereecke to appear on a project he was writing. Steve was really impressed with the songs and agreed to contribute guitars and mix the track "Red Light Zone". The album, entitled "Frozen Rain" subsequently came out in 2008 gaining good reviews in the rock press and was certainly one of the highlights of the year.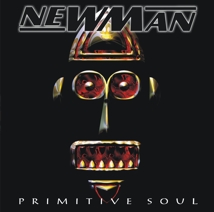 In May of 2007 "Primitive Soul" was released and saw a more raw vibe than previous albums. This release once again achieved great reviews incuding a 5.5 star rating at Rockreport and received heavy airplay on radio such as ARfm's Steve Price Show and Radio Caroline.
2008 saw Steve involved in various projects including mixing and mastering the second Eden album "Oblivion" featuring his long term friend ex Kick vocalist Nick Workman and Vince O'Regan (Bob Catley, Pulse). He was also drafted in by Khalil at Escape Music to master the re-release of the Atlantic album "Power" which received some awesome reviews and also had a song which he co-wrote with Anders Rydholm, "Heartache Calling" appear on the first Steve Overland solo album "Breakaway". Later that year Steve was approached by Steve Price at ARfm to get involved in a benefit for the radio station. He gladly took on the responsibility for compiling and mastering the ARfm/Firefest benefit CD "The Undying Fire" also getting time to write an exclusive song for the release. Steve also began putting ideas together for the 10th anniversary of the first album and decided to go about re-recording some of the more popular songs from all the previous releases. Initially this was to be a single disc, however, along the line, Steve took a step back and believed this needed to appeal to existing fans as well as attracting new fans who may want to catch up on the back catalogue.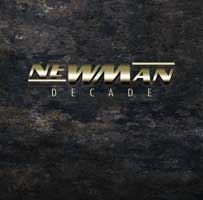 The double CD "Decade" was released in 2008, Disc 1 featuring 17 songs from the first 5 albums and Disc 2 featuring another 17 songs unreleased throughout the bands career. The second disc also featured an acoustic version of "One Step Closer" and re-workings of two songs from Primitive Soul.
2009 continued to be a busy year for Steve as he was approached by the Z Rock organisers to play the Z Rock Festival and also appear as special guests to John Waite on his UK Tour. Having sat down and thinking hard about the direction of the live band Steve decided to seek all new members this time around. He approached Mark Thompson-Smith with a view to using the members of Mark's covers band Fay Wray. After hearing the CD's and a few Beer and Pizza nights the band was in place. On May 30th at JB Dudleys the new incarnation of Newman hit the stage. Paul Boyle (Keys, Vocals), Neil "Nog" Richardson(Guitar, Vocals), Terry Horne(Bass, Vocals), and Nic Lipscombe(Drums, Vocals) took one of the accolades as "band of the day". They went on to play at "The Brook" in Southampton with John Waite the following night and once again impressed a lot of people and made some great new friends.
During the course of 2009 Steve had been busy writing and demoing new songs whilst also being askedto master the new album by Frederic Slama's AOR Project. "Journey To LA" featured some great musicians including Philip Bardowell, Steve Overland, and Steve Lukather to name a few. The latter part of 2009 saw Steve finish the recording and mixing of the new songs.
With the new album "The Art Of Balance" now complete and a release date of March 15 2010 through the Chrome Dome label Newman are looking forward to a busy year.