DECADE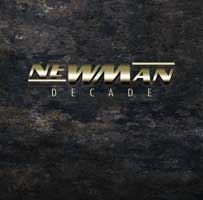 CD ONE





6. Aint Gonna Cry Forever
7. You Should Be Gone
8. Pray For The Day

10. Save Me Tonight
11. The Call
12. Dangerous
13. The Way You Love Me
14. Judgement Day
15. Burned
16. I Know You
17. Watching You
CD TWO






7. All She Wants
8. Don't Ever Cry Forever
9. Love Never Dies
10. Can't Stop Falling
11. All Of Me
12. Emotions Into Motion
13. World Comes Down
14. When I Look In Your Eyes
15. 15 Minute Revolution (Alternative Version)
16. Primitive Soul (Acoustic Version)
17. One Step Closer (Alternative Version)
Produced By Steve Newman
Chrome Dome Music 2008
Engineered By Steve Newman
Recorded At The Blue Room, Sussex, England
Mixed By Steve Newman
Steve Newman : Vocals, Guitars, Bass, Keyboards
Rob McEwen : Drums
Mark Thompson-Smith : Backing Vocals

Re-performed and re-recorded songs, both released, and unreleased, from the first 10 years of Newman.
Disc 1 features 17 songs from the first 5 albums,
from the self titled 1998 debut, through "One Step Closer",
dance in the fire", "Sign Of The Modern Times",
and finally "Heaven Knows".
Disc 2 features another 17 songs,
some that were written and even recorded,
but not included in the final track listing
for the various releases.
this disc also features some songs which
were "works in progress" but were never completed,
and finally closing out the disc,
a few alternative and acoustic arrangements.